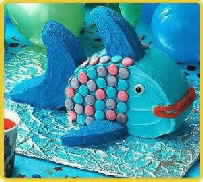 Prep Time: 1 Hour(Ready in 3 hours)Makes 12 ServingsIngredients

CAKE:
1 (18.25-oz.) pkg. Pillsbury® Moist Supreme® Funfetti® Cake Mix
1 1/4 cups water
1/4 cup oil
2 eggs

FROSTING:
2 (16-oz.) can Pillsbury® Creamy Supreme® Vanilla Frosting
Blue gel or paste icing color (not liquid food color)

EQUIPMENT AND DECORATIONS:

Toothpicks4 (6-inch) wooden skewers
Blue decorator sugar
64 assorted colored round candies
1 small white gumdrop
2 brown miniature candy-coated chocolate baking bits
2 candied orange slices

Directions

Heat oven to 350°F. Grease and flour two 8­-inch round cake pans. In large bowl, combine all cake ingredients; beat at low speed until moistened. Beat 2 minutes at medium speed. Pour batter into greased and floured pans.Bake at 350°F for 35 to 45 minutes or until toothpick inserted in center comes out clean. Cool cakes in pans for 15 minutes. Remove cakes from pans; place on wire racks. Cool 1 hour or until completely cooled.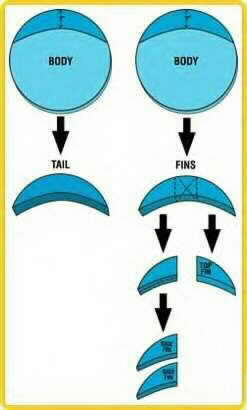 In small bowl, tint 1 1/2 cups of the frosting with blue icing color until of desired light blue color.Cut crescent moon shape off each cake layer. (See diagram at above.) Set aside crescent shapes for fins and tail.

For body of fish, spread flat side of 1 remaining large cake piece with 2 tablespoons frosting. Attach remaining large cake piece, flat side against frosting; secure with toothpicks. Carefully spread frosting on cut edges of cake layers. Place frosted side down on platter or foil-­covered cardboard. Frost body of fish. Sprinkle scale portion of fish with blue decorator sugar.

Tint remaining frosting with blue icing color to make a darker blue color. Frost outer edge of crescent moon-­shaped cake piece. Place on end of body portion for tail; secure with 2 wooden skewers. Frost tail fin completely; sprinkle with blue decorator sugar.

Cut remaining cake piece into 3 equal pieces. (See diagram.) Set aside middle piece. Frost cut sides of 1 piece. Place on top of fish for top fin, secure with 2 wooden skewers. Frost top fin completely; sprinkle with decorator sugar. Cut remaining piece crosswise in half to use for fins on sides of fish. (See diagram.) Attach fins to body with frosting. Frost side fins completely; sprinkle with decorator sugar.

Decorate sides of fish with colored round candies for scales. Cut white gumdrop in half and flatten; place on cake for eyes. With small amount of frosting, attach baking bit on each eye for pupil. Roll out and cut orange slices to form lips; place on fish and secure with toothpicks. Remove toothpicks and skewers from cake before serving.

HIGH ALTITUDE (ABOVE 3500 FEET): See package for directions.