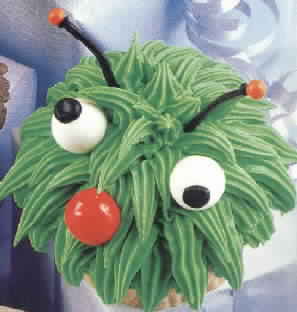 You will need:

Colors: Kelly Green, Black
Black shoestring licorice
white and red gumballs
mini jawbreakers
Decorating tips: 3, 18

1. Bake and cool cupcakes. Use green frosting and pipe pull-out star fur over the top of each cupcake.

2. Position a white gumball for eyes and a red gumball for the nose. Pipe pupils on the eyes with tip 3 using black icing.

3. Use black licorice for the antennae and attach a mini jawbreaker to the end with tip 3 dots of icing.