You will Need:

8 x 2 inch round cake pan
colors: Leaf green, Lemon yellow
Buttercream Icing
Cake Board
orange slice jelly candies (fins & mouth)
spice drops
large gumball (eye)
mini candy coated chocolate dot
granulated sugar
rolling pin
Make 3 cups of buttercream icing and tint green/yellow combination
Blue foil Wrap for cake board.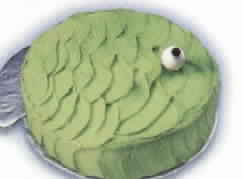 1. Prepare cake board with blue foil wrap. Bake and cool 1-layer round cake. Combine green and yellow icing colors to tint icing. Using spatula, ice top in an up and down scallop motion to create a scale effect, then ice sides bringing down the same motion. Attach candy-coated chocolate to gumball using a dot of icing; position on cake for eye.
2. Cut spice drops horizontally in half. Place in granulated sugar and flatten with a rolling pin.
3. Position flattened spice drops on cake. Position orange slice jelly candy for lips.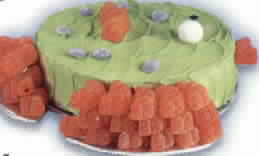 4. Position two orange slices for side fins. Position orange slices stacked three high on cake sides for top and tail fins.
Buttercream Frosting

1/2 cup solid vegetable shortening
1/2 cup butter or margarine*
1 tsp. clear vanilla extract
4 cups sifted confectioner's sugar (approx. 1 lb)
2 Tbsp. milk

Crean butter and shortening with electric mixer. Add vanilla. Gradually add sugar, one cup at a time, beating well on medium speed. Scrape sides and bottom of bowl often. When all sugar has been mixed in, icing will appear dry. Add milk and beat at medium speed until light & fluffy.

Makes 3 cups

Keep icing covered with a damp cloth until ready to use. For best results, keep icing bowl in refrigerator when not in use. Refrigerated in an airtight container, this icing can be stored for 2 weeks. Rewhip before using.

For chocolate Buttercream Icing:
Add 3 0z. melted unsweetened chocolate and 1 Tbsp. more milk to recipe.

* Substitute all vegetable shortening and 1/2 tsp. no-color butter flavor for pure white icing and stiffer consistency.