How to Make Sugar & Spice Grapes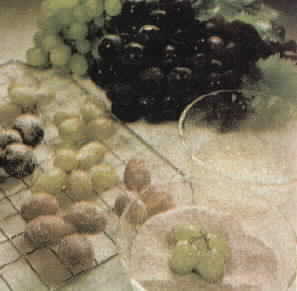 You Will Need:

1 egg white
1/2 cup of sugar
1 teaspoon cinnamon
1/2 teaspoon ground cardamom
1 lb. grapes

Sugar & Spice Grapes are an elegant garnish for fruit or dessert platter.

In a small bowl, beat the egg white until it's frothy.

In another small bowl, mix the sugar, cinnamon and cardamom.






Cut the bunches of grapes into small clusters. Holding the stem of a cluster, dip it into the egg white. Shake off the excess egg white and roll the grapes in the sugar mixture wuntil they are coated.

Refrigerate them on a rack until the coating is set or overnight.

For an interesting variation, substitute cranberries for the grapes.