Cream Puff Swans
Prepare Cream Puff Sections. Cut 1/3 off top of rounded puff. Fill the bottom with a scoop of ice cream; insert a neck into 1 end. Cut top piece in half for wings. Place wings, slanting upwards slightly onto each side of ice cream. Repeat with remaining Cream Puff Sections. Freeze until ready to serve. Swans may be kept frozen for several weeks in a large airtight container.

Remove swans from freezer 10 minutes before serving. Serve with Fudge Nut Sauce(see recipe below).

Makes 10 swans.
Cream Puff Sections:
Preheat oven to 400 degrees F. Lightly grease 2 baking sheets.

1. In a medium saucepan over moderately high heat, heat milk, butter or margarine, sugar and salt only until mixture begins to boil and butter or margarine is melted. Remove from heat and immediately pour in flour. Stir vigorously until dough forms a ball and leaves the sides of the pan. Return to heat and stir 1 to 2 minutes to dry out dough. Remove from heat.

2. Make a well in center of dough and add eggs 1 at a time, beating after each addition.
After the last egg, beat a minute longer, until dough is smooth and shiny.

3. Fit a pastry bag with a 5/8-inch rose tip (#124).

4. Fill bag with about 1/4 of the batter.

5. To make bodies, drop heaping tablespoons of dough onto second baking sheet, making ten 2-1/2-inch oval mounds. Leave room between mounds for expansion. Bake 25 to 35 minutes or until golden brown. Bake necks with bodies but remove necks from oven after 10 minutes or when underside is golden.

6. Cool bodies in oven 1 hour with door ajar. Necks and bodies may be frozen in an airtight container. Let stand at room temperature 1 hour before filling.

Variation

1 pint whipping cream, whipped and sweetened, may be substituted for the ice cream.
Fill swans and refrigerate only 1 to 2 hours before serving.
Fill a pastry bag fitted with a 5/8-inch rose tip, with about one-fourth of the batter. On a lightly greased baking sheet, pipe out 13 to 14 S-shaped swans' necks. You'll have 2 to 4 extra necks to allow for breakage. On another lightly greased baking sheet, make 10 bodies by dropping heaping tablespoons of dough to form oval mounds. Mounds should be about 2-1/2 inches long. Necks and bodies may be frozen after baking. Thaw at room temperature 1 hour before filling.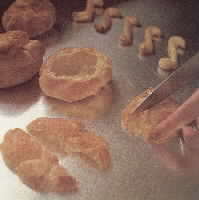 Cut off the top third
of each baked body.
Cut the top in half
to make the wings.
Fill the bottom of the puff with a scoop of ice cream. Insert one end of a neck into thye ice cream at one end of the body.

Press a wing into the ice cream on each side of the body. Slant the wings slightly upward. Swans may be served immediately with Fudge Nut Sauce or frozen in an airtight container.